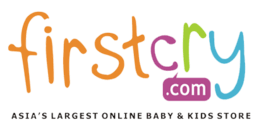 once upon a time in FirstCry store, there were some epic deals...
Flat 35% on Feeding & Nursing Range with FirstCry Code!
Time to enjoy a flat 35% off feeding and nursing range with this special FirstCry promo code! Head over to the promo page now and check out all eligible items and brands to enjoy extra savings of up to Rs. 1500 on the entire feeding and nursing range. The FirstCry promo is eligible on high chairs, booster seats, bibs, sippers, dishes and much more for a limited period only, so hurry up and get the feeding & nursing essentials you need for your baby with extra savings of up to Rs. 1500!
FirstCry Code: Save Flat 35% Off 8 Most Loved Brands!
This today-only FirstCry coupon code will land you a flat 35% discount on the 8 most loved brands including Sebamed, Mama Earth, Himalaya Baby, Moms co, Cetaphil Baby, Babyhug, Mother Sparsh and Lotus Baby. Eligible product categories include everything from skin care and bath essentials to feeding and nursing items. The FirstCry coupon code will land you extra savings of up to Rs. 2000 on baby shampoos, oils, powders, creams, soaps, moisturizers, diapering essentials, wet wipes, health and safety essentials, laundry detergents and much more for today only!
FirstCry Christmas Code: Flat 40% on Select Baby Range!
It's time for some special Christmas savings on top baby essentials! You can use this limited-time FirstCry promo code to enjoy a flat 40% discount on select product categories including baby diapers, toys, bath & skin care, children's books, CDs, health and safety, nursery essentials, school supplies, baby gear and much more! Head over to the FirstCry offer page now and use this FirstCry promo code to enjoy extra savings of up to Rs. 3000 on your baby's Christmas haul!
FirstCry Code: Flat 50% Off Kids' Party Wear Range!
Here is an amazing FirstCry offer that will land you extra savings on your kids' party wear essentials! Head over to the limited-time FirstCry promo page now and use the FirstCry promo code to enjoy a flat 50% discount on top kids' fashion brands including Babyhug, Mark & Mia, Kookie Kids, Fox Baby, Finger Chips, Gini & Joy, Robo Fry, Bluebell, ToffyHouse, Little Kangaroos, Meng Wa, Olio Kids, Babyoye, Mini Taurus and more. Eligible kids' part wear styles include dresses, suits, skirts, rompers, onesies, ethnic wear styles and much more.
Enjoy Flat 35% Off Entire Nursery Range with FirstCry Code!
Get your bundle of joy ready for winter using this special FirstCry promo code! Head over to the FirstCry promo on the entire nursery range and enjoy saving a flat 35% discount on blankets, beddings, sleeping bags, wrappers, and much more that will help you keep your baby warm! The FirstCry promo code will land you extra savings of up to Rs. 5000 on top nursery brands including Babyhug, Mee Mee, Fancy Fluff, Abracadabra, Kicks & Crawl, Mom's Home and much more for a limited period only!
Discover the FirstCry deals to enjoy shopping for Valentine's Day 2023
---
Having a new baby can be more expensive than you expected. So, you need to be constantly on the lookout for deals and coupons that will help you save some money on your baby's or kids' needs. Shopping online is one of the best ways to get good savings on diapers, clothing, nursery essentials, maternity items, etc. However, you have to make sure that you are not compromising on quality. When it comes to your kids' needs, nothing is more important than their health and well-being. So, you need to trust the online shopping platform you are using. As a shopping platform for babies' and kids' essentials, FirstCry helps you find the best-quality items for your baby while getting you great savings.
As the favourite baby and kid's shopping platform in Asia, FirstCry offers hundreds of thousands of unique products from 6000 brands. FirstCry has more than 400 stores across India as well as a user-friendly online shopping platform and a mobile app. Using the website or the FirstCry mobile app is a great way to get great savings from the comfort of your own home and get everything delivered to your door. It is so easy to find FirstCry offers that will help you in your parenting journey. All you need to do is to check out to website and the mobile app regularly to never miss a good deal on your favourite brands and products.
Perks of Online Shopping on FirstCry.com
FirstCry offers a wide range of products for parents who are always trying to save some money on essentials. At FirstCry, you can find product categories such as baby clothes, kids' clothes, footwear, toys, books, diapers, nursery, travel gears, feeding & nursery, bath & skin, maternity, health & safety and more. So, all the essentials you need are available on a single platform, which makes shopping much easier for all the busy parents out there.
The online shopping platform FirstCry.com is the perfect place for parents who have no time to lose wandering around in a physical store. You can find everything you need from kids' wear to toys online and your items will be delivered to your door. You can always find exclusive FirstCry coupons to save extra money on essentials like diapers, clothing items, bottles, toys and more from your favourite brands. Some of the brands offered by the platform includes carter's, Huggies, Fisher-Price, Beebay, Johnson's, Himalaya, Babyhug, Chicco, Pampers and more! It is great for parents to know that they can rely on FirstCry for original and unique products from reliable brands.
FirstCry.com also offers a customer-friendly online shopping experience. For orders equal or above Rs. 499, free shipping is available at select locations. For orders below Rs. 499, a fixed shipping fee of Rs. 50 is applied. The return and cancellation policy is also user-friendly, so you do not have to be concerned about shopping online. You can get detailed information about FirtCry's shipping, return and cancellation policy.
Discover the FirstCry Parenting Community
With more than 7.5 million registered users, FirstCry also has a parenting platform called FirstCry Parenting. This platform is for parents to get informed and share their own experiences with one another from the moment they get pregnant. The platform is not only great to get informed about new products, apps and expert tips, it also another way to get FirstCry perks. You can participate in the quizzes and competitions to get FirstCry vouchers. There are YouTube videos you can watch to get parenting tips and participate in Parenting Q&A sessions with experts. FirstCry Parenting is a great platform as parenting can get lonely sometimes.
How to Get Great Savings on FirstCry.com
FirstCry aims to help parents save some money on essentials. So, you can follow to latest deals and sale events on FirstCry.com or the FirstCry mobile app if you want to stock up on essentials like disposable diapers, baby wipes, bath essentials, etc. Another way of getting great savings on FirstCry is to hunt for coupons. You can use a FirstCry coupon code on your shopping cart to get extra discounts on your favourite products and brands. You can find those on the website or the mobile app.